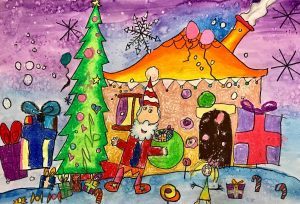 About The Courses
Students learn the basic art elements and terminology used in the world of fine art making through a fun and interactive way.
Level 1 is 1-hour class. Students experiment with various kinds of art materials and art styles. Learn about basics of art elements and principles of design. The curriculum is age-appropriate, fun and will develop students' confidence in making creative decisions.
Curriculum Example 
Concepts: Line and shape
Skills: Coloring and blending with pastels and crayons, painting with tempera and watercolor, paper collage
Visual Art Standards: Use lines, shapes/forms, and colors to make patterns; make a collage with cut or torn paper shapes/forms; use lines in drawings and paintings to express feelings; use geometric shapes/forms (circle, triangle, square) in a work of art; look at and discuss works of art from a variety of times and places.
Artists of Inspiration: Paul Klee, Paul Cezanne, Pablo Picasso, Eric Carle
Topics and Projects
Media (Subject to change)
Assignments
Week 1
Name Design
Pencil, crayon

Weekly art diary:

Students can draw or paint anything on their sketchbook: their favorite toys, one day spent with friends, still life, imaginary stories, fairy, drawing about family, something special, etc. Let the kids draw whatever they like!

Week 2
Head of Cat Inspired by Paul Klee
Oil Pastel
Week 3

Still Life Drawing Inspired by Paul Cezanne

Crayon, watercolor

Week 4
Week 5

Cubism Portrait Inspired by Picasso

Pencil, ink pen, crayon

Week 6
Week 7
Seahorse Paper Collage

Oil pastel, ink pen, watercolor

Week 8